My Love Affair with Argentium Silver
They say that everyone has a soulmate. When it comes to jewelry making, mine is Argentium Silver. More brilliant and tarnish-resistant than traditional Sterling Silver, this metal feels like butter in your hand. I have hammered and beaten it into complete submission, and it still shines like a new penny! With such lasting brilliance, you probably won't be needing a silver polishing cloth anytime soon (although, I offer a free one with every purchase).
Argentium Silver was invented by Master Silversmith, Peter Johns at Middlesex University, London. His original goal was to reduce the firescale that occurs when you heat the metal. He used an element called Germanium to do it, but found it not only helped the silver resist firescale, but also increased its tarnish resistance. Talk about a bonus!
I use the Argentium 935 grade, meaning it is 93.5% pure silver. Traditional Sterling Silver is 92.5% silver. The Argentium formula was created to enhance the appearance of the silver, giving an incredible natural brightness and lustrous beauty that outshines white gold, platinum, palladium, rhodium and traditional Sterling Silver.
Needless to say, I'm hooked. And, I'm always working on new pieces. So, be on the lookout for new designs coming soon.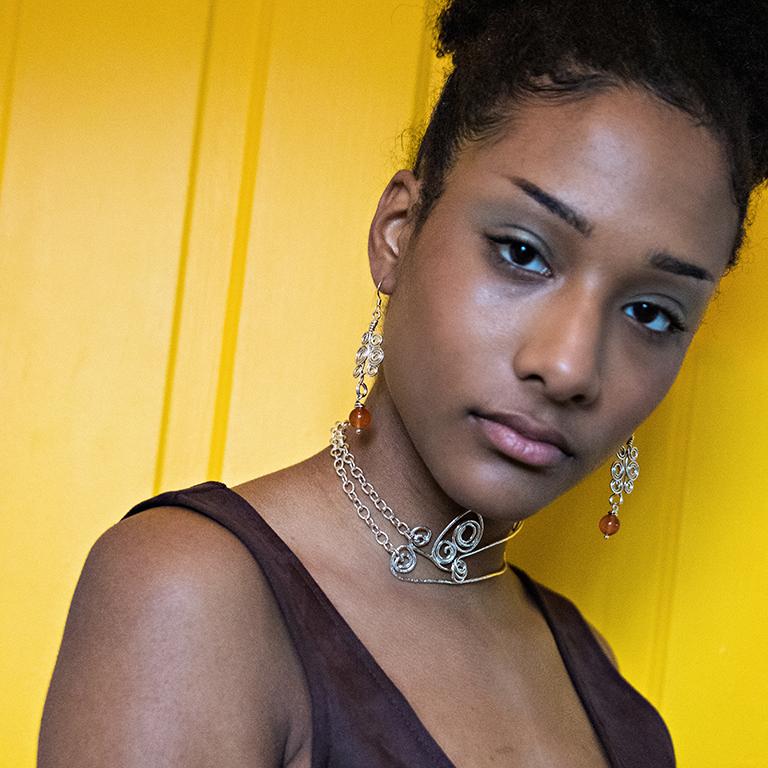 All the Reasons You'll Fall in Love with Argentium Silver
It's Purer
Argentium's 935 and 960 grades set new purity standards for silver. Argentium Silver is always purer than traditional Sterling Silver.
It's Naturally Beautiful
Plating is prone to wear and tear and is commonly used on silver items to give the temporary illusion of purity. Argentium silver does not require plating and is the natural color of pure silver through and through.
It's Brighter and Whiter
Argentium Silver is brighter than platinum, palladium, white gold and traditional Sterling Silver.
It's Highly Tarnish Resistant
Argentium Silver is low maintenance, easy to care for and simple to keep clean. Junebug offers a polishing cloth and storage pouch with each purchase.
It's Hypoallergenic
Argentium Silver works well for those who are unable to wear traditional Sterling Silver thanks to its hypoallergenic properties.
It's Responsible
It has been certified that Argentium Silver is produced using 100% recycled silver.