Hi! Thanks for stopping by. This is my story...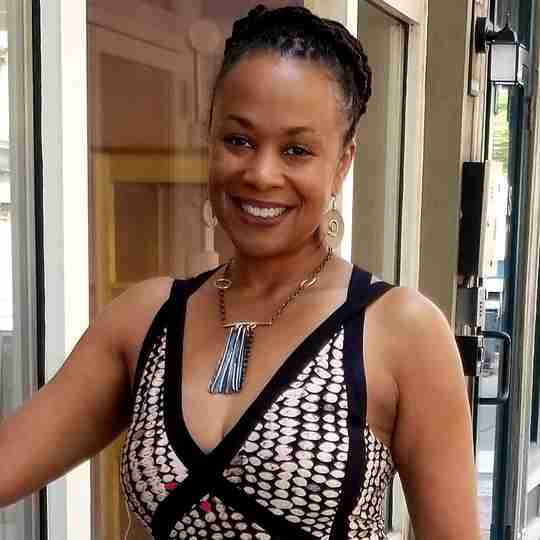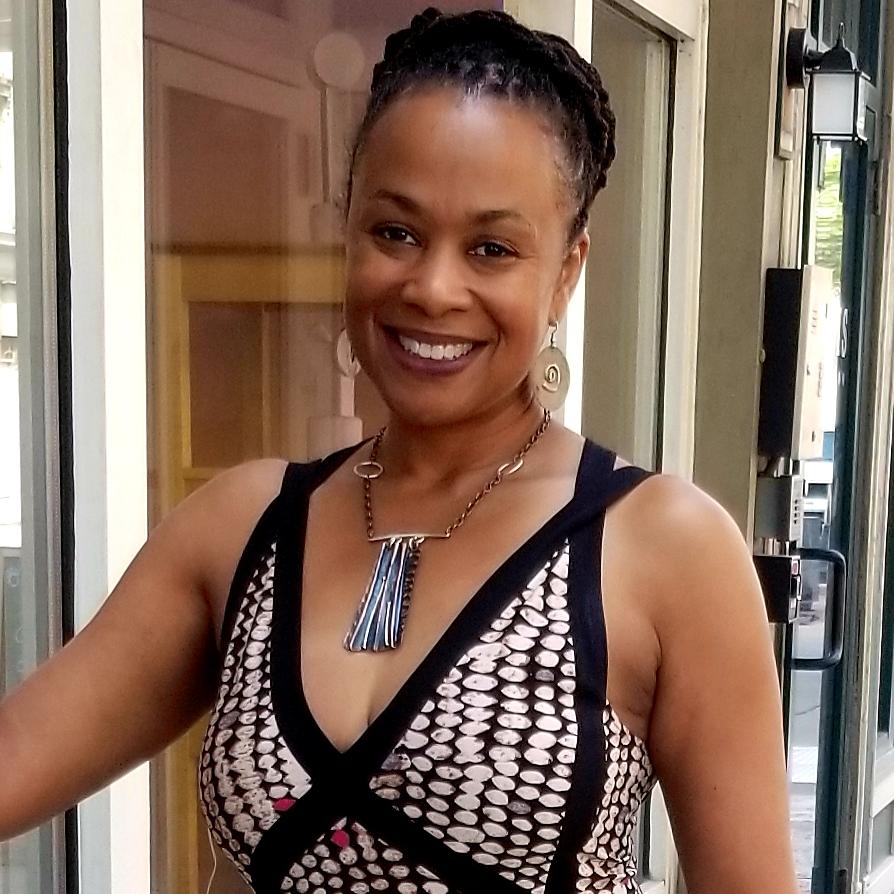 Created especially for fearless women, each Junebug Jewelry piece is a work of wearable art designed to complement strength without compromising beauty.
"They say jewelry is how you express who you are without ever saying a word. All of my pieces make a statement."
I remember the moment like it was yesterday. I was invited to a swanky, black-tie affair and had spent most of my money on a gown that made me feel – and look – like a queen. Of course, any queen worth her salt needs jewels to accentuate her royalty. So, I headed to the department store to see what I could find with the pennies I had left. I settled on a not-so-faux-looking shiny rock piece that fit the part.
Fast-forward a couple of hours … I've got my dress on and am loving what I see. It was time to put the exclamation point on my fabulosity. I reached for my new necklace and pulled off the price tag. The next thing I knew, I had a mess of shiny, faux-rock beads scattered all over the floor. Yep, that's right. Unbeknownst to me, my necklace was held together by nothing more than several pieces of regular, 'ole plastic. And, while I admit that I didn't go broke paying for it, the price demanded better quality than that.
So, I had to face the evening in my bangin' new dress and just a simple pair of earrings. I was still amazing. But as I looked around at all the other jewelry in the room, I couldn't help but think my look needed a statement piece.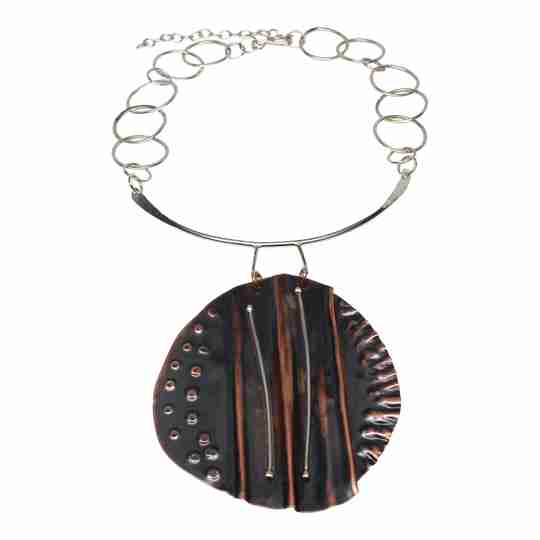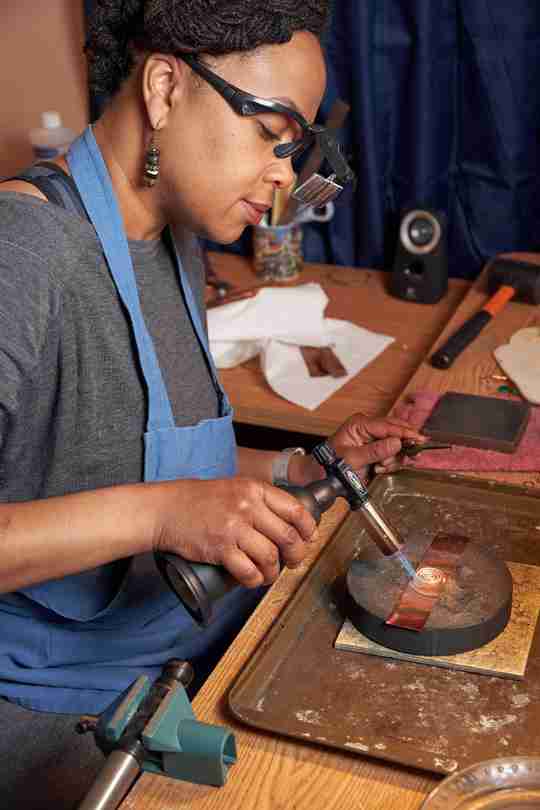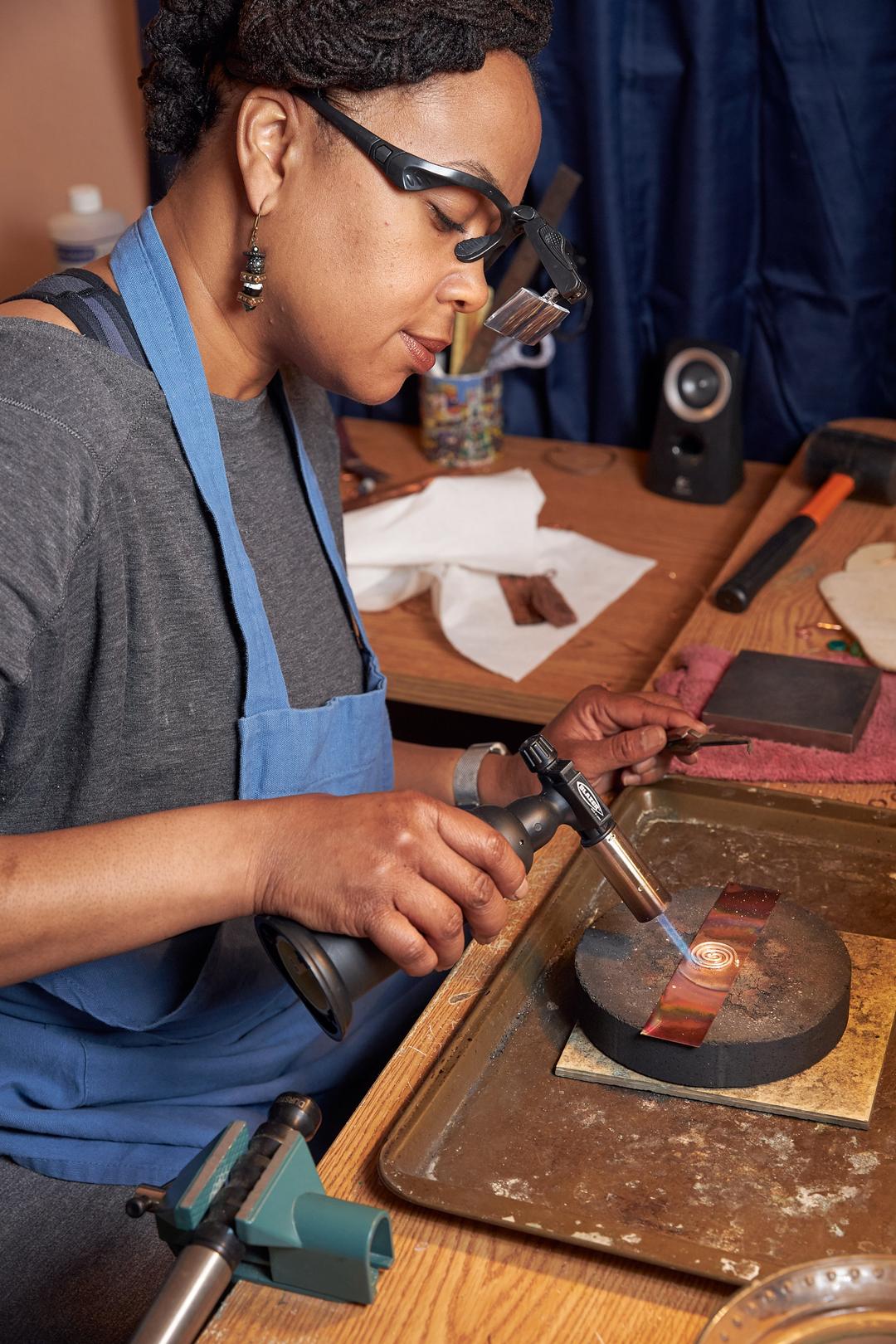 Not long after that, I saw an ad for a jewelry making class and signed up. I figured I could learn to make a piece a bit more long-lasting than the failed statement necklace I bought.
I walked into the classroom and took my spot among the 20 other potential jewelry designers there. Our task was to make a necklace and earring set, and when we finished, my classmates raved about my design. So now,with a little knowledge and confidence in tow, I started gathering tools and supplies to make my own jewelry.
I craved new techniques, so I took classes with renowned metalsmiths and artisans to get the skills to produce my vision of wearable art. Along the way, I fell in love with copper, Argentium silver and natural gemstones.
SEE WHAT PEOPLE ARE SAYING!
★ ★ ★ ★ ★
"I just love my bracelets from Junebug Jewelry Designs. I have three and wear them just about every day. The customer service is great and the pieces are amazing."
- Sheila D.

★ ★ ★ ★ ★
"I love the beautiful original pieces that are offered! No two pieces are the same!"
- Phyllis H.T.

★ ★ ★ ★ ★
"I love love love Dawn's work! I love everything I've seen, but I'm a super fan of the copper work. I now how two cuff bracelets that I adore!"
- Erin K.

★ ★ ★ ★ ★
"There is not a single day that I don't get compliments on the Junebug Jewelry Designs piece that I am wearing. Looking forward to purchasing my next piece!!!"
- Shelly G.