Home
»
Junebug Jewelry's Guide to Copper Jewelry Care
Junebug's Guide to Copper Jewelry Care
Sealed to Perfection
When you purchase copper jewelry from Junebug Jewelry Designs, you can be confident that your piece has been sealed to preserve its unique finish and protect your skin from discoloration. All our pieces are delivered in jewelry pouches that contain anti-tarnish strips – giving you an extra layer of protection.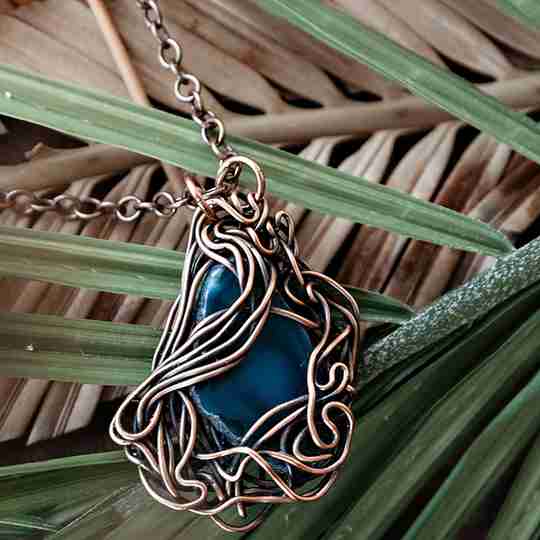 Cleaning Junebug's Copper Jewelry
Since our copper jewelry has been sealed, it will resist oxidation and tarnish. However, it can develop a dull finish as it becomes exposed to your sweat, oils, soaps or makeup. If this happens, you can restore the piece's original luster with a jewelry polishing cloth. Amazon has a nice assortment.
Why Does Copper Sometimes Turn Skin Green?
Copper oxidizes naturally whenever it is exposed to oxygen in the air, your sweat, oils in your skin, etc. Some people experience a green stain on their skin if they wear copper jewelry that is unsealed. This is a very natural process and is far from permanent. Again, Junebug's pieces are sealed to prevent this reaction. But, if your skin ever does turn green wearing copper, just wash the spot with soap and water. It comes off and is not harmful in any way.
Specific Jewelry Care Recommendations:
Store your jewelry in the pouch that came with it, and keep your anti-tarnish strips. Tarnish strips last a long time, but if yours start to lighten, it's time to replace them. You can find new strips at craft stores in your area.
Do not swim or shower/bathe wearing your pieces, as soaps and other chemicals can cause the metal to oxidize.
While I hope you love wearing your new jewelry, try to remember to take it off before you go to sleep.