Exploring the Many Benefits of Wearing Copper Jewelry
Copper is one of the most important and popular metals in the world, and dates back more than 10,000 years. For millennia, many cultures have prized it for its health and wellness benefits, as well as for its rich and enduring beauty.
It's one of three minerals essential to human well-being. It helps with blood vessel formation, brain development, and healthy bones and teeth. Many swear by its ability to fight inflammation and arthritis. Did you know that a balanced diet requires about 1mg of copper daily?
Cooper has been used for centuries as sanitary material perfect for piping clean water. The Egyptians, Greeks, Romans and Aztecs used its compounds to treat diseases and maintain hygiene.
With its antimicrobial, anti-fungal and anti-inflammatory properties, wearing copper can help protect your body and increase your energy. 
Check Out Junebug's Collection of Copper Jewelry
Bold, artisan jewelry designs handcrafted in Cincinnati, Ohio
The History of Copper Jewelry
People have been wearing copper jewelry since the 8th Century BC.
Copper is definitely my favorite metal for jewelry design. Is malleable, versatile, easy to shape, super forgiving and extremely durable. Its natural reddish-brown color delivers an earthy, vintage feel -- giving each jewelry piece a charm of its own.
Copper has strong ties to many ancient cultures. The Igbo-Ukwu Civilization of West Africa made breastplates, vases, crowns and swords from copper. The metal is linked to Aphrodite, the Greek goddess of love. And, it was used by the Egyptians to purify water and keep wounds clean.
It is the oldest discovered mineral and was used by prehistoric man. In fact, copper beads dating back to 9,000 BCE have been found.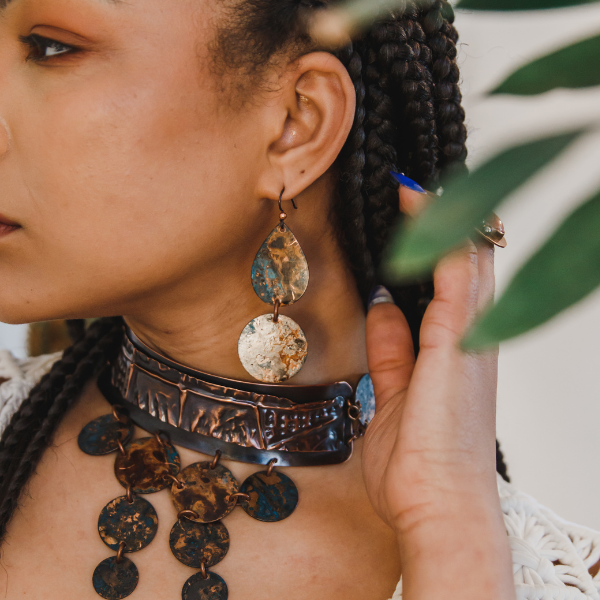 Between 3900 and 2500 BC, copper's value soared throughout ancient civilizations. In fact, artisans who could make copper as jewelry were held in high regard and created crowns and headdresses for the wealthy.
Here in the U.S., the Native Americans traded copper jewelry in the 1800s, and made it super-popular in the Southwest. By the way, Arizona has the one of the world's largest copper deposits.
Copper's jewelry fame didn't stop there. Throughout the 1930s and 1940s, artisans like Francisco Rebejas and Jerry Fells gave the material a reboot with styles still prized today. Two of my favorite Black jewelry artists -- Winefred Mason and Art Smith -- both used copper in their celebrated designs.
By the 1970s, copper's popularity rose again as people started tapping into its metaphysical properties.
Did you know that wearing copper allows your body to absorb trace amounts into your system. Circle back up to the human body benefits I shared above.
One of the latest trends in the world of fashion is mixed-metal jewelry. Junebug combines copper with Argentium Silver to create stunning one-of-a-kind and limited-edition handcrafted designs inspired by the natural world. Choose from cuff bracelets, statement necklaces, funky earrings, cocktail rings and more. If your style is high fashion and you love exploring the latest trends, add some Junebug to your jewelry collection.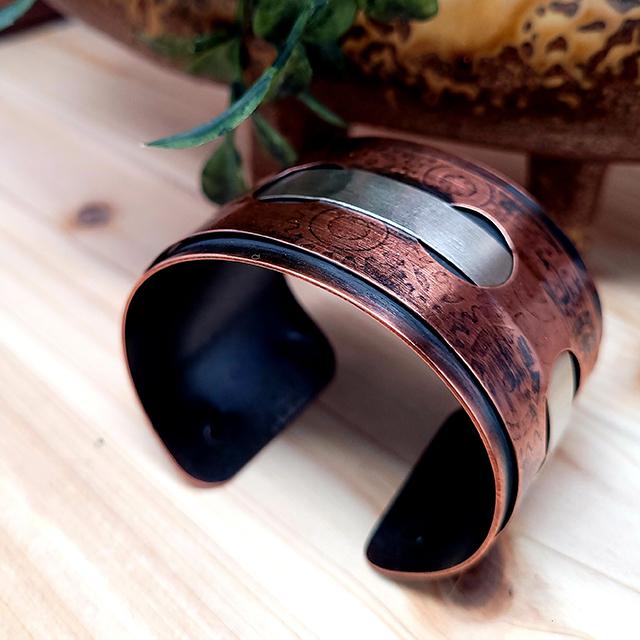 Fun Facts About Copper
The Statue of Liberty is made entirely of copper that developed a distinctive, and protective, green patina. The color is one of the statue's most defining features.
The Bronze Age is named after one of copper's main alloys. In fact, all alloys (bronze, brass and sterling silver) are made from copper.
Because copper is naturally antibacterial, it's ideal for use in public buildings for handrails, door knobs and other surfaces that are touched often.
Copper is 100% recyclable, which helps ensure its affordability. It's one of the most recycled materials on Earth.
Foods that are rich in copper include most nuts, seeds, chickpeas, liver and oysters.
It has anti-oxidant properties, protecting the body from the harmful effects of free-radicals and toxins. Plus, it helps to stabilize collagen.
Copper kills more than 99.9% of bacteria within just 2 hours of contact.
Copper is a component of melanin and helps in the production of new skin cells.
Wear a copper cuff on your wrist if you have arthritis. Copper aids the body in reducing inflammation. 
Copper emanates life energy throughout the body. Wear copper and maintain positive energy levels.
What do you think about copper jewelry? How many of these fun facts did you already know? Are you inspired to try copper? I'd love to know in the comments.






Get New Posts Delivered to Your Inbox
Subscribe to the Junebug Jewelry Blog and have new posts delivered to your inbox when they're published. This way, you'll never miss a single post.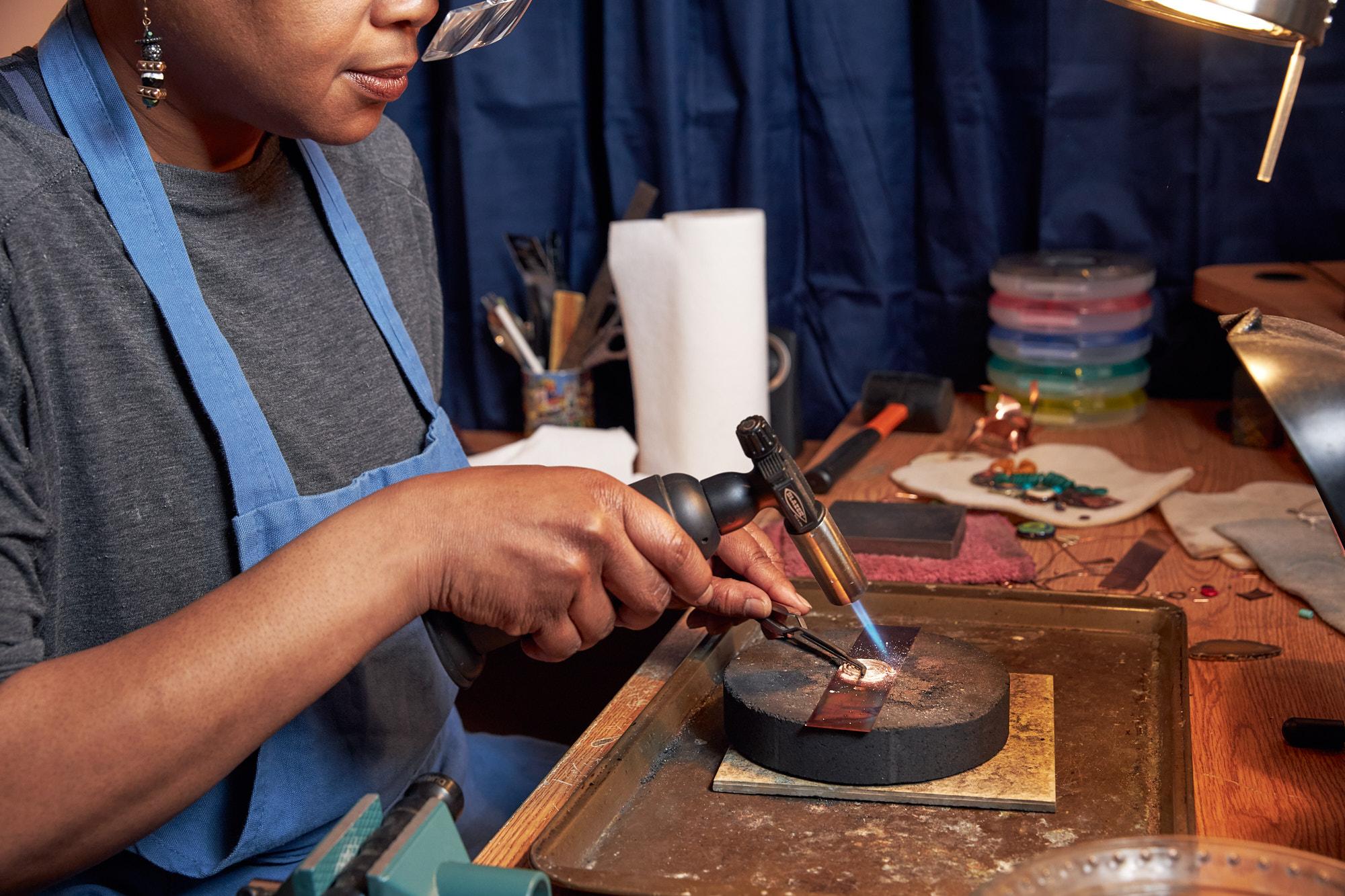 Check Out Junebug's Most Popular Blog Posts