Six Fashion Jewelry Trends You Simply MUST Rock This Winter
This winter's jewelry trends can be summed up in two words:
bold and dramatic.

Think extra-long drop earrings, stackable bracelets, and over-the-top choker necklaces.
Baby, it's cold outside! Yes, Junebug Tribe, the temperature may have dropped, but you'll stay warm with hot jewelry trends that are perfect for winter.
Listen, we know that jewelry is probably the last thing you choose when styling for colder weather. You'll most likely grab the essentials for the winter, like a sweater, boots, a hat, gloves, coat and a scarf. But as we know, an outfit isn't complete without accessories. And nothing beats accessorizing with wearable artisan jewelry like striking earrings, chunky cuff bracelets and statement necklaces.
This winter season's jewelry trends can be summed up in two words: bold and dramatic. Think extra-long drop earrings, stackable bracelets, and over-the-top choker necklaces. Clothes may tell the plotline of a story, but jewelry shares all the intimate details that make it interesting. Adding large hoop earrings with a sweater, jeans and knee-high boots can really drive home your style and remind everyone why you deserve all the attention.
Are you ready to make a statement and stand out from the rest this season? Take a look at these fashion jewelry trends you must rock in winter 2023.
Trend #1: Bring back the '90s with choker necklaces.
Yes, they're making a comeback. But they're not the thin, plastic choker necklaces we wore in high school and in our 20s. The choker necklace trend for winter 2023 are bold, statement necklaces that will definitely turn heads.
Give off regal and warrior vibes with our handmade Hills and Valleys Copper and African Turquoise Choker Statement Necklace. This exquisite choker necklace will keep all the eyes in the room focused on YOU with its regal and warrior vibes. Combining the powerful elements of natural copper with gorgeous turquoise rounds, it features copper chain construction and a simple, easy-to-use hook clasp to help you achieve the perfect fit on your neckline.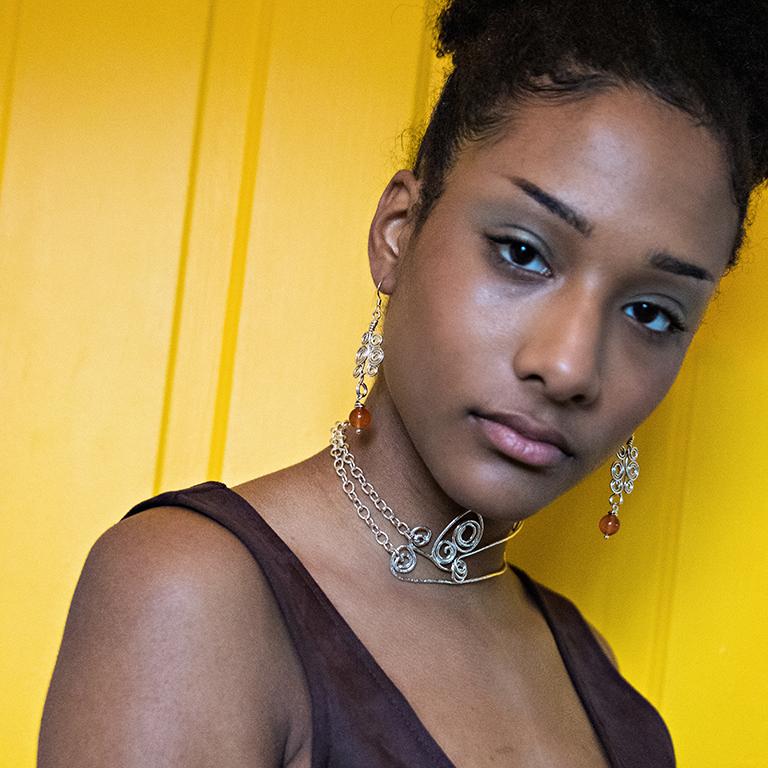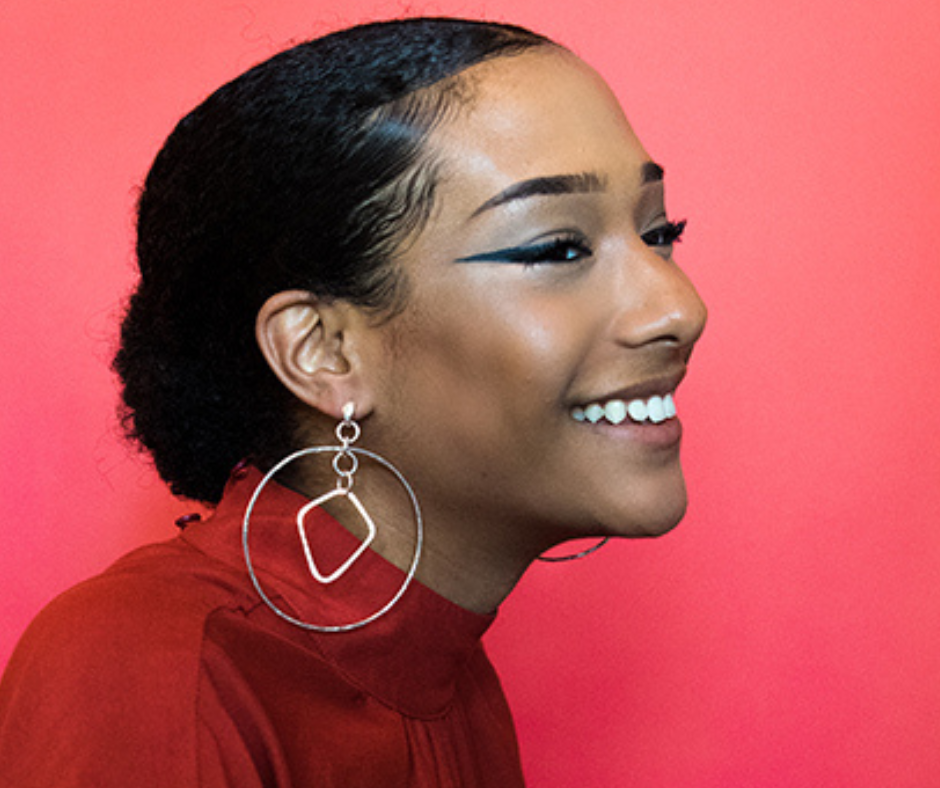 Trend #3: Go big or go home with hoop earrings.
One of the most quintessential jewelry pieces is the hoop earring, so they're always on trend. But for winter 2023? Keep that big hoop energy by going bolder and funkier.
Make a statement with our Big and Fabulous Argentium Silver Hoop Earrings. These extra-large but lightweight earrings are super funky thanks to diamond shaped Argentium Silver accents in the center. For a touch of color, you'll love our VOICE Copper and Lapis Big Hoop Earrings, which are accented with blue Lapis Lazuli semi-precious stones.
Trend #4: Make it pop with pendant necklaces.
I love a statement pendant necklace. It pairs well with a plunging neckline or a higher neckline (like a turtleneck) and truly makes any outfit stand out. Our Amber Agate Pendant Necklace has a small, amber-colored Brazilian agate slice wrapped in 14 feet of scribbled and hammered copper wire and hangs from a lightweight, 22-inch copper chain.
For the woman who deserves the moon and stars, the Funky Moon and Stars Pendant Necklace is perfection. This sexy, pendant necklace is made with copper and Argentium Silver and hangs 19 inches, though the length can be adjusted.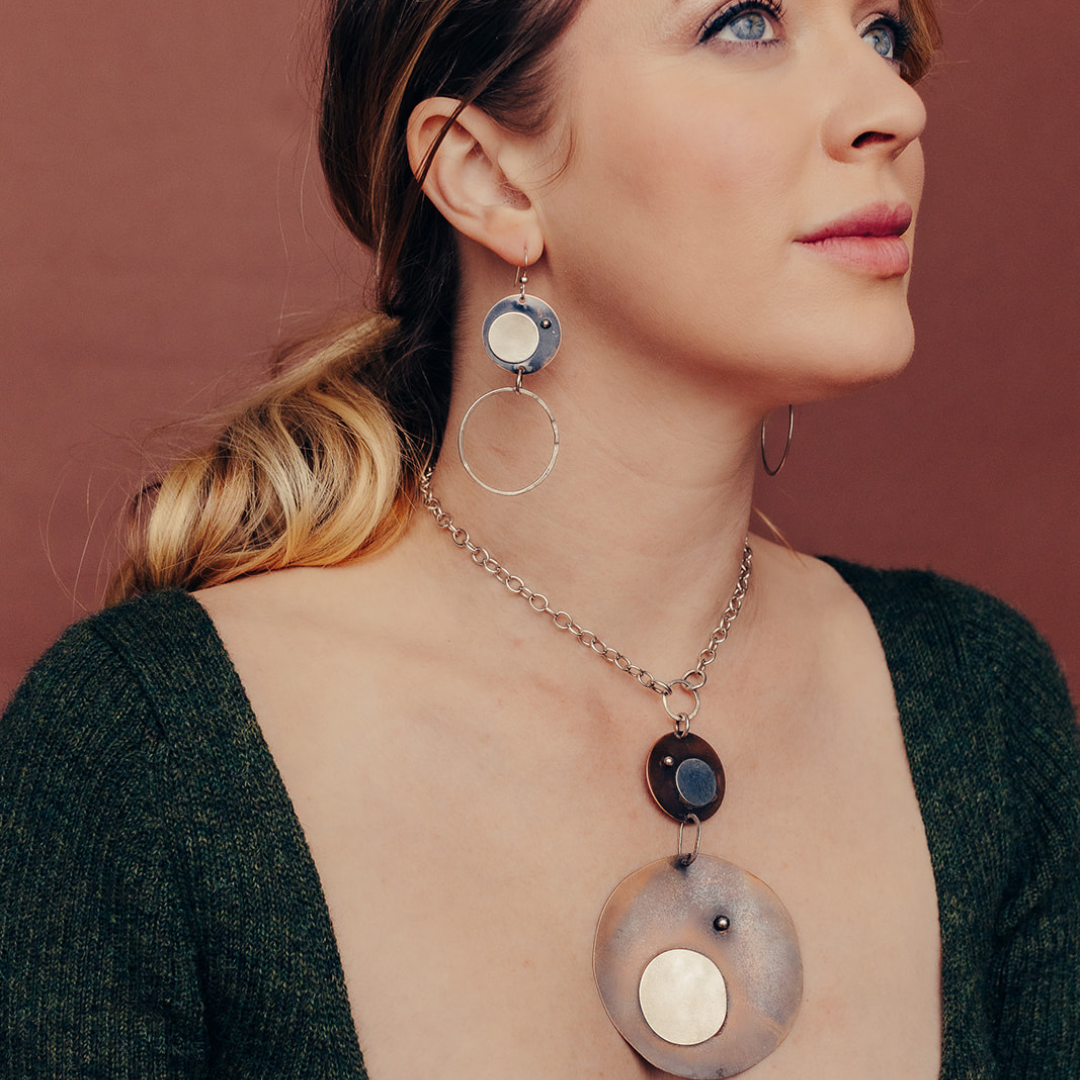 Trend #5: Extra-long earrings are the way to go.
Wearing extra-long, dangle earrings is a great conversation starter. Keep 'em talking and stay on trend with our Sassy Copper Dangle Earrings with Yellow African Opal. These simple, yet funky earrings blend beautifully etched copper with copper hand formed beehives and Yellow African Dendritic Opal. And they hang at a dramatic 3.5 inches long.
Can't wait for summer? Heat up any outfit this winter with our 4.25-inch Sassy Bird's Eye Rholite Fiyah Earrings. They're simple, comfortable and destined to turn heads. They feature Bird's Eye Rhyolite accents along with swirls of copper.
Trend #6: Stay ahead of the curve with asymmetrical earrings.
Symmetry is overrated for winter 2023. Dare to be different and elevate your look with our Copper Mismatched Dangle Earrings with Opal Accents. Copper discs are etched with circular patterns and accented with mismatched, hand-forged copper chain and golden African Dendritic Opal gemstones.
Get New Posts Delivered to Your Inbox
Subscribe to the Junebug Jewelry Blog and have new posts delivered to your inbox when they're published. This way, you'll never miss a single post.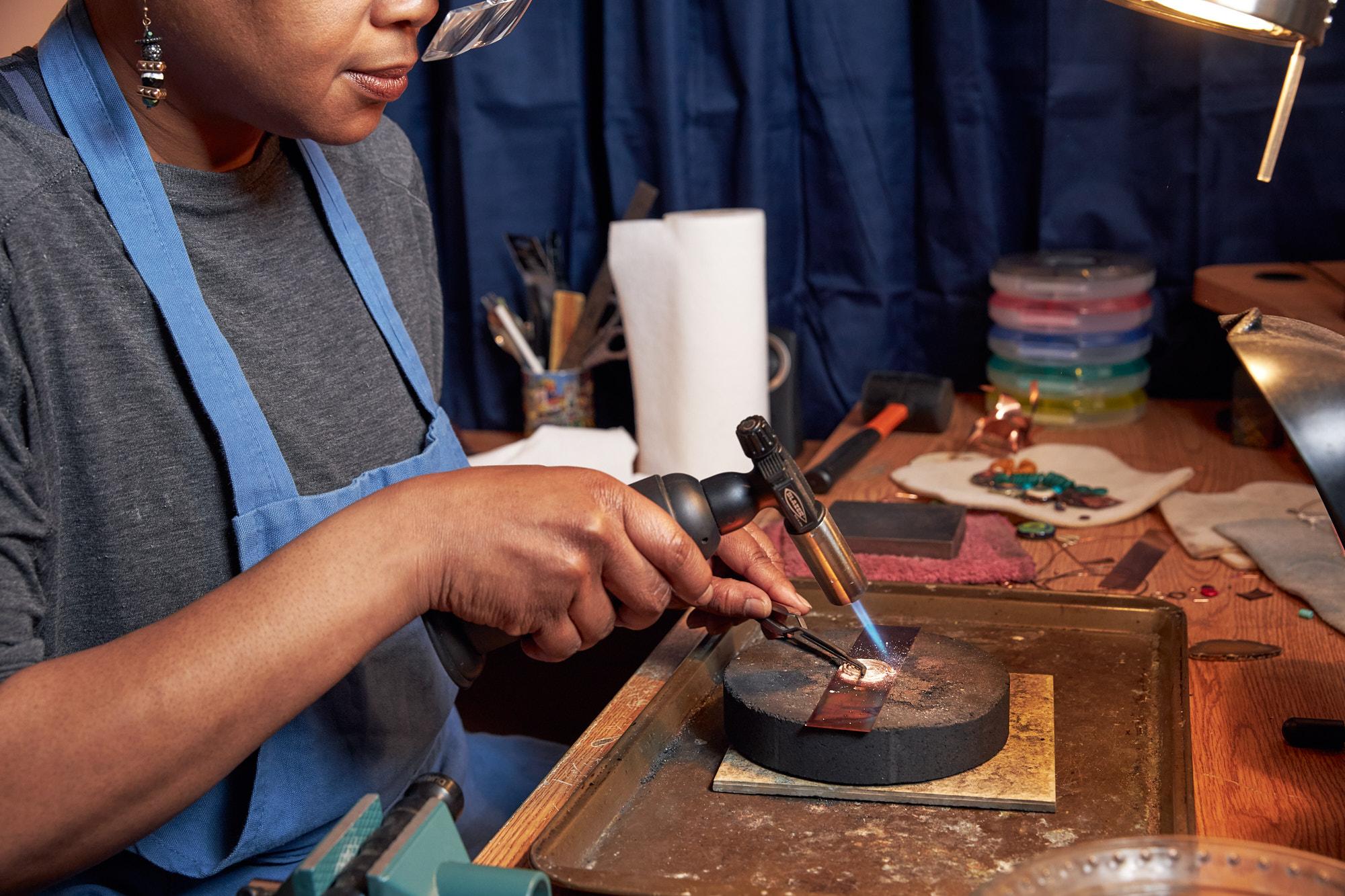 CHECK OUT OUR MOST POPULAR CONTENT
© Copyright. All rights reserved. 2022